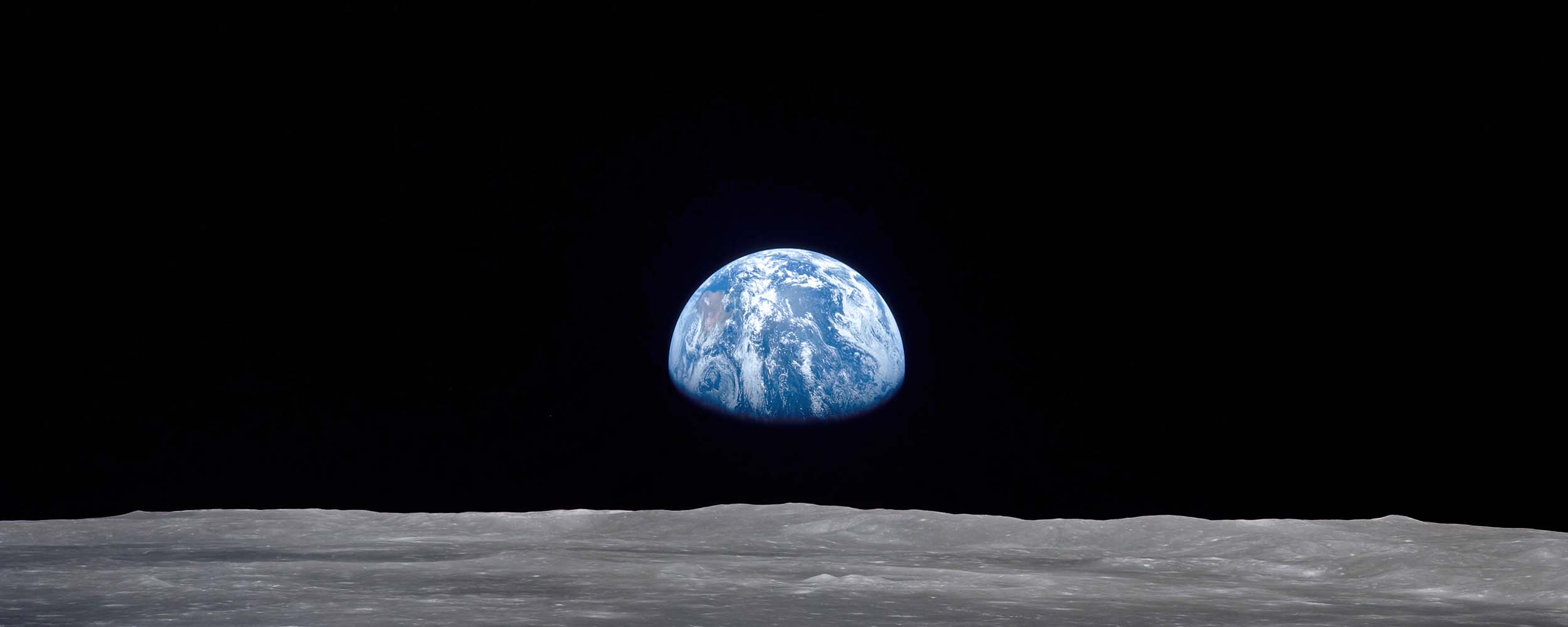 Humans have a longstanding history of rising to a challenge with moonshot thinking and action
From mastering fire to developing life-saving medicines to sending humans to the moon, it's in our DNA to imagine new ways forward—then bring those ideas bursting to life. Now, as we train our collective sights on solving climate change at Climate Week NYC and beyond, we need that same optimism that a brighter future is possible.
But how do we proceed with confidence when the climate picture looks as bleak as it does?
We're already facing staggering environmental impacts like shrinking sea ice, deforestation, loss of biodiversity, and coral reef die-off—while coughing our way through polluted landscapes and trying to keep communities safe from increasing instances of wildfire, extreme weather, and severe heat. It's no wonder so many people feel discouraged, overwhelmed, and powerless.
Yet from where I sit, recognizing the severity of the challenge is the key first step toward solving it. Our climate future is rife with opportunity, if we act today, and signs of hope glimmer everywhere as we speak.
For example, while the first stocktake on the global climate treaty confirms that countries must accelerate efforts, it also shows some meaningful progress. First, the Paris Agreement has already led to actions that "significantly reduce forecasts of future warming," based on estimates made before its adoption. The report card also found that many actionable and creative climate solutions now stand ready to be implemented.
Meanwhile electric vehicle sales of all types are surging, displacing 1.5 million barrels of oil usage every single day, corporate climate action is accelerating, with an 87% increase in companies setting science-based targets last year alone, and of course the Inflation Reduction Act is actively helping launch a more auspicious chapter for climate action across the United States.
These and countless other examples help feed my sense that, like the original moonshot, we can—and will—do the "impossible" and solve climate change.
From one moonshot moment to another
"We choose to go to the moon in this decade and do the other things, not because they are easy, but because they are hard, because that goal will serve to organize and measure the best of our energies and skills, because that challenge is one that we are willing to accept, one we are unwilling to postpone—and one which we intend to win..."

– John F. Kennedy
President Kennedy gave his historic moonshot speech in 1962, well before I was born, but his words became like a mantra for me. I grew up immersed in the space industry, thanks to my mom, a space historian—so from an early age I was excited and motivated by the power of smart, motivated, and aligned people with the political will to get seemingly impossible tasks done.
The sense of 'can-do, will-do, must-do' against all odds that I saw in the space industry has stayed with me throughout my career in climate tech, where I've learned that we don't have to be constrained by conventional thinking in climate innovation.
For example, why should we bother trying to make dirty, centuries-old materials like steel a little greener—when we can instead reimagine a world unconstrained by steel? And once we imagine all-new materials, we also get a clearer glimpse of how transformative technology can have profound ripple effects across categories.
Insurmountable challenge, or profound opportunity?
Addressing climate change isn't just about slashing emissions; it's about making life better, for everyone. One of my sources of inspiration, Rick Smalley, helped me see that by doing the hard work of solving climate, we also help solve some of the top challenges to humanity over the next century, from health, water, and hunger issues to poverty and inequity.
And we achieve those profound societal benefits without tightening the proverbial belts. Skeptics may think of solving climate as a major cost center, but the opposite is actually true: Climate tech is a $100 trillion investment opportunity. The fortunes of tomorrow will be built on the climate tech of today.
All told, investing in a better climate future will yield unfathomable returns, socially, environmentally, and economically.
Seizing opportunity with transformative innovation
Working in climate tech as I do, I've actually found it hard not to be optimistic. I saw fresh opportunities every single day while building and leading the world's largest climate tech innovation ecosystem, Third Derivative. We mobilized more than $1B into more than 150 transformational climate technologies, any one of which had catalytic, transformational potential.
And now I've come to DexMat—a nanotechnology startup making steel, aluminum, and copper obsolete with advanced, carbon-negative materials like Galvorn—because it has the potential to be the most transformational innovation in the climate fight to date.
Our exponential growth curve shows we're on track to achieve gigaton scale of impact faster than any other lighthouse technology.
And we are not alone in the effort. Together with other tireless climate tech leaders like BlocPower, Cemvita, Reedi, Syzygy, and so many more, we actively encourage other transformational tech to push harder, move faster, invest more—because we're all in this global fight together.
Our climate mission is clear: Solve it
During his 1962 moonshot speech, President Kennedy didn't ask if we could put a person on the moon by the end of the decade. He said it would be hard, that we'd have to get started right away—and that we would do it.
Right now we're in a similar moment, with a chance to do something truly exceptional for the world. By doing the hard work and pushing past seemingly insurmountable obstacles, I believe we can and will build a sustainable, prosperous, and equitable world. Decades from now, the work we do today can and will spark hope for future generations facing their own moonshot moments.
So, when climate change news is dark, I try to be a beacon of light to remind myself and others that there is nothing a team of mission-driven, motivated humans can't do. I choose to shoot for the moon with optimism, because I know we have what it takes to get there.