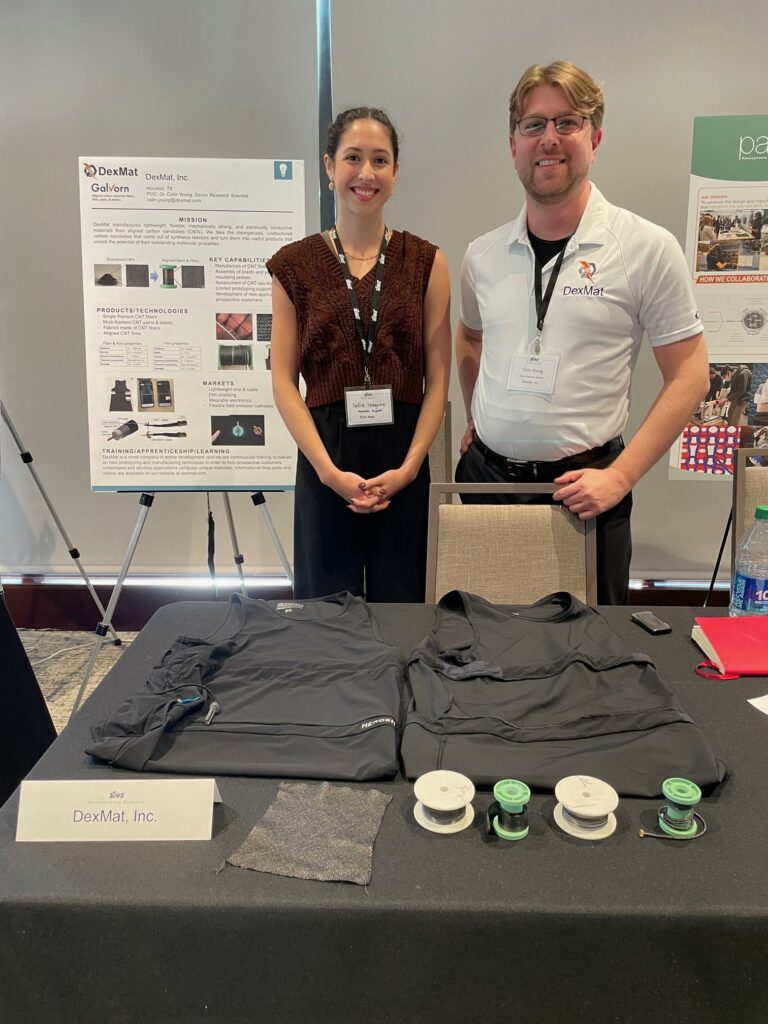 DexMat recently attended the Advanced Functional Fabrics of America (AFFOA) Membership Summit in Boston to demonstrate prototype garments capable of measuring ECG signals using dry-contact skin electrodes made of Galvorn yarn.
AFFOA is an organization dedicated to supporting and fostering collaborations between industry, government, and university research groups developing advanced functional fiber and textile technology; their mission is to revitalize the United States domestic textile industry by fostering the development of entirely new types of fabric and wearable devices. DexMat has been a member of AFFOA since 2020, with the goal of  developing Galvorn carbon nanotube fibers and fabrics into an important part of this emerging advanced textile industry.
With funding from AFFOA, DexMat partnered with Hexoskin Health sensors & AI, a manufacturer of wearable health monitoring garments based in Montreal, to make & test prototype versions of the Hexoskin vest that use Galvorn carbon nanotube (CNT) yarn electrodes. Our electrodes consisted of Galvorn yarn embroidered into pieces of elastic fabric, which were then sewn into the interior lining of the vests and connected to a set of lead wires that carry signal to a recording device. The prototypes that we produced for the AFFOA event showed that Galvorn CNT yarn electrodes could collect high-quality ECG data from a user going about daily activities over long periods of time.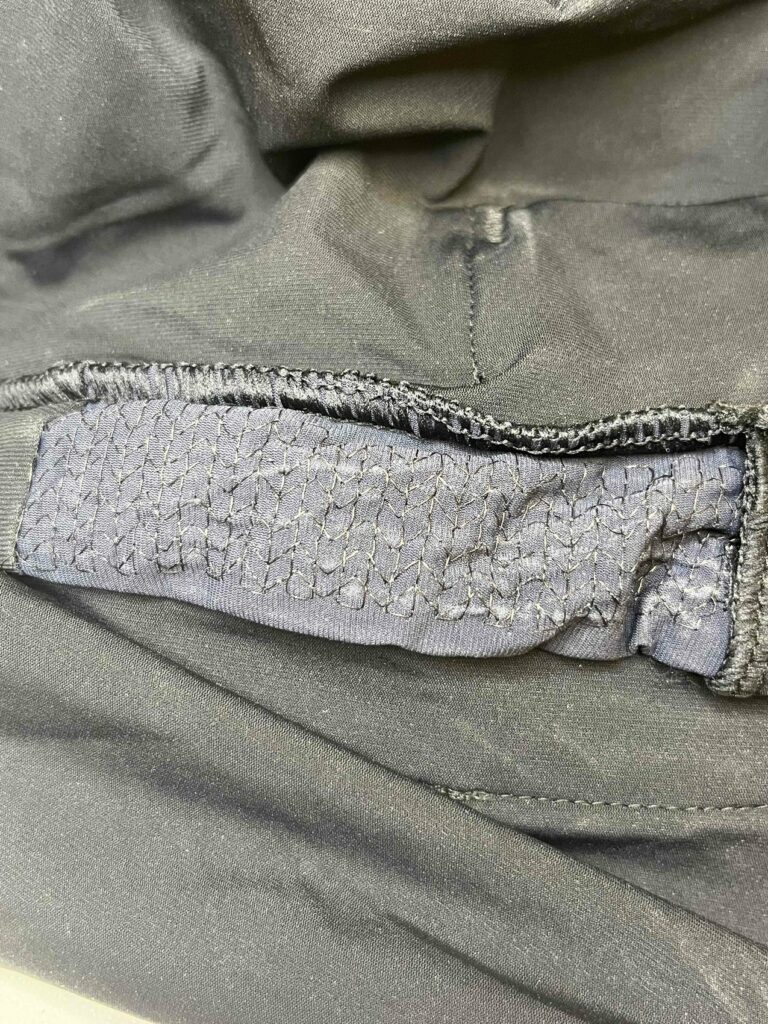 We were able to confirm that these prototypes could be subjected to at least 6 washing cycles in a laundry machine without any degradation in their electrical properties. Our expectation is that further testing will show that this remains the case over many more wash cycles, since CNT do not oxidize or tarnish easily in water. Wash cycle durability is a weak point for metallized textile fibers and fabrics, one of the categories of material that are commonly used for dry-contact skin electrodes in wearable garments; the thin layers of metal coated onto textile materials can increase dramatically in electrical resistance as they oxidize, rendering electrodes ineffective after 50 to 100 washing cycles. If Galvorn CNT fibers can exceed this limit, they may be useful in the creation of a new generation of health-monitoring garments with longer usable lifetimes.
If you would like to learn more about our Galvorn CNT yarns and fabrics please visit the link below to see a full list of specifications of our standard products and please support our work towards commercialization by purchasing some yarn and fabric for your wearable electronics projects.