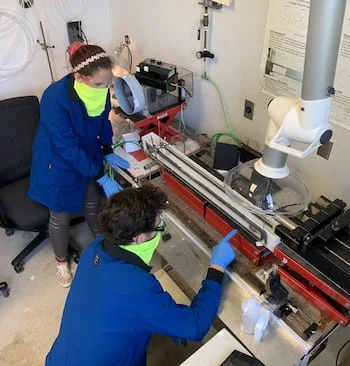 Researchers at Rice University announced last week that they have acheived new record properties in wet-spun carbon nanotube (CNT) fibers, with a higher tensile strength than Kevlar fiber and a new record for electrical conductivity. Their results, published in the journal Carbon, show that by using high aspect ratio CNTs with high crystallinity (i.e., good molecular structure), they were able to achieve a tensile strength of 4.2 GPa, a conductivity of 10.9 MS/m, and a tensile modulus of 260 GPa.
The Rice team point out that the properties of wet-spun CNT fibers have steadily improved ever since they were first successfully fabricated almost two decades ago. Averaged over that time, they have doubled in strength and conductivity every three years. This continuing trend indicates that CNT fibers have not yet reached their full potential.
DexMat also uses a wet-spinning production process to produce Galvorn fibers, and we are focused on achieving the best possible fiber properties with consistent quality and on a commercial scale. Our most recent product, a high-strength 50 micron diameter fiber, boasts some of our best properties to date, with a tensile strength of 2.5 GPa and a conductivity of 8 MS/m; the best experimental samples we have produced in the lab are slightly better than this, with tensile strength as high as 3.0 GPa and conductivity as high as 10 MS/m. We are confident that by continuing to improve our processes we can eventually reach the high bar set by this recent publication. It is great to see that CNT fibers have not yet reached their limit!
More information can be found in the recent press release from Rice University.
To check out our offering of Galvorn CNT fibers, yarns, and films, follow the link below!